Make it SIMPLE: enhanced shock management by focused cardiac ultrasound
Journal of Intensive Care
2016
4:51
Received: 7 April 2016
Accepted: 12 July 2016
Published: 15 August 2016
Abstract
Background
Shock is a spectrum of circulatory failure that, if not properly managed, would lead to high mortality. Special diagnostic and treatment strategies are essential to save lives. However, clinical and laboratory findings are always non-specific, resulting in clinical dilemmas.
Main content
Focused cardiac ultrasound (FoCUS) has emerged as one of the power tools for clinicians to answer simple clinical questions and guide subsequent management in hypotensive patients. This article will review the development and utility of FoCUS in different types of shock. The sonographic features and ultrasound enhanced management of hypotensive patients by a de novo "SIMPLE" approach will be described. Current evidence on FoCUS will also be reviewed.
Conclusion
Focused cardiac ultrasound provides timely and valuable information for the evaluation of shock. It helps to improve the diagnostic accuracy, narrow the possible differential diagnoses, and guide specific management. SIMPLE is an easy-to-remember mnemonic for non-cardiologists or novice clinical sonographers to apply FoCUS and interpret the specific sonographic findings when evaluating patients in shock.
Keywords
ShockUltrasoundEchocardiographyEmergency departmentCritical careSepsis
Background
Shock is a clinical syndrome in which there is inadequate cellular and tissue oxygenation due to circulatory failure [1]. The presentation of shock can vary with different causes of shocks and degrees of physiological abnormalities. Shock can be classified into five different categories according to the underlying pathophysiology, namely hypovolemic shock (due to hemorrhage or intravascular volume depletion), cardiogenic shock (e.g., acute myocardial infarction, myocarditis), obstructive shock (e.g., pulmonary embolism, tension pneumothorax, and cardiac tamponade), and distributive shock (e.g., septic, neurogenic, and anaphylactic), and lastly, shock related to cellular poisoning [2]. One of the cardinal features of shock is hypotension. It can be defined as systolic blood pressure lower than 90 mmHg or more precisely mean arterial pressure lower than 65 mmHg as suggested by the latest international consensus definitions for sepsis and septic shock [3]. It is associated with high mortality and adverse hospital outcomes in non-traumatic patients in the emergency department [4, 5].
In order to save our patients in shock, early diagnosis, and timely targeted therapy is vital. To do so in a timely manner is a challenge as clinical presentation of different types of shock may be similar. Point-of-care ultrasound (PoCUS) performed by clinicians providing direct care to the patients is considered an invaluable clinical tool to facilitate diagnosis-making, to rule out potentially fatal conditions, and to provide guidance to life-saving procedures [6]. Among the different applications of PoCUS, focused cardiac ultrasound (FoCUS) is gaining popularity in emergency care settings. It is considered as one of the core emergency ultrasound applications by the American College of Emergency Physicians and the International Federation for Emergency Medicine [7, 8]. Recently, FoCUS has been integrated into scanning protocols together with focused scans in other regions, e.g., lung, abdomen, and lower limb deep vein system to manage patients in clinically undifferentiated hypotensive state [9–11]. In the following sessions, the SIMPLE approach, the role of FoCUS in the management of shock, and the current evidence for this application will be discussed.
Essentials of FoCUS and SIMPLE approach
The name "focused cardiac ultrasound" (FoCUS) is interchangeable with "focused echocardiography," "emergency echocardiography," "bedside limited echocardiography," "point-of-care cardiac ultrasound," and "goal-directed echocardiography" [12]. Lately, the term "focused cardiac ultrasound" has been recognized as a more appropriate term to take into account the nature of point-of-care application of ultrasound assessment of cardiac anatomy and physiology, distinct from the formal echocardiographic study done by cardiologists, according to the first international evidence-based recommendations issued by World Interactive Network Focused on Critical UltraSound (WINFOCUS) [13]. FoCUS was first introduced into emergency communities in the 1990s [14, 15]. With the wider availability and miniaturization of ultrasound machines, FoCUS has quickly become standard practice in acute care settings across the globe. In contrast to the conventional comprehensive echocardiography performed in the cardiac laboratory by cardiologists, FoCUS is performed by emergency physicians or intensivists at the bedside. It is essentially a limited evaluation of cardiac function, pericardial space, and intravascular volume in order to answer clinical questions vital to patient management. Contrary to what some may believe, the requirement for the FoCUS is not high. A portable or even pocket-sized handheld ultrasound machine can provide adequate image quality for assessment of left ventricular function, detection of pericardial effusion, and measurement of abdominal aorta size [16–18]. Pocket-sized machines are advantageous in unfavorable environments where full-sized machines will be impractical, e.g., pre-hospital assessment in an ambulance or helicopter [19].
FoCUS makes use of the same five orthodox views as in transthoracic echocardiographic study (TTE), (Fig.
1
) to assess cardiac function, namely the left parasternal long and short axis views, apical four-chamber view, apical two-chamber view, and subxyphoid four-chamber view. Besides, subcostal visualization of the inferior vena cava (IVC) is frequently integrated into FoCUS to assess volume status and fluid responsiveness in hypotensive patients (Fig.
2
) [
9
,
10
]. 2D imaging and M-mode are employed for assessment in FoCUS. Doppler study is reserved for more sophisticated measurements in the cardiac laboratory, such as in assessing valvular dysfunction, calculating stroke volume, and mitral inflow velocity. These measurements would take longer time to achieve and may technically difficult during the initial phase of resuscitation when adequate visualization of the heart cannot be easily obtained. According to the international evidence-based recommendations for FoCUS, Doppler assessment of valvular dysfunction is considered beyond the scope of FoCUS and reserved for evaluation by standard comprehensive echocardiography [
13
]. Thus, this review will mainly focus on the application of 2D imaging and M-mode study to rapidly assess patients in shock.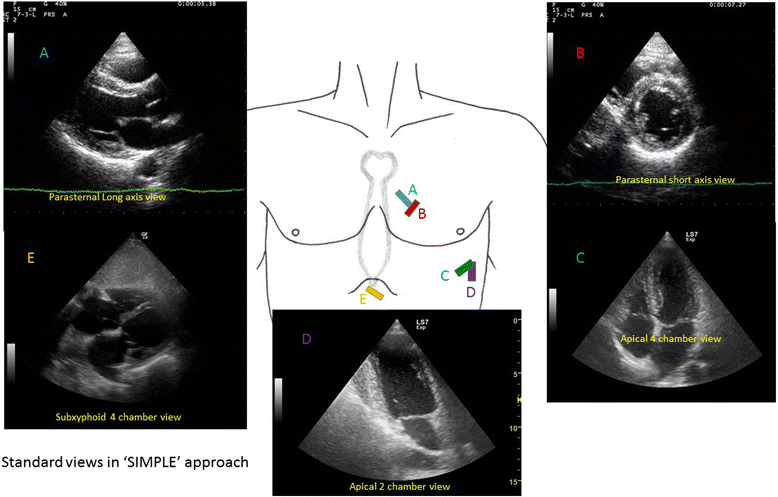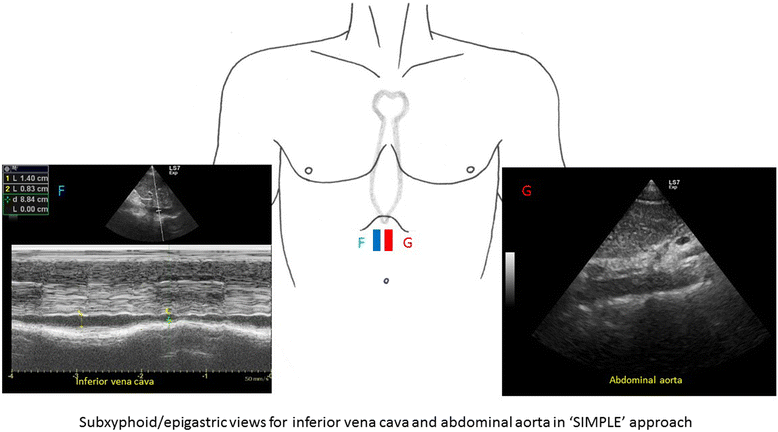 In the assessment of hypotensive patients, several key sonographic findings should be evaluated. They include the chamber sizes, in particular the left ventricle (LV) and the right ventricle (RV), the interventricular septum (IVS), the IVC, the presence of intramural mass (commonly blood clots and myxoma), myocardial thickness and motion during systole, the presence of pericardial effusion or pleural effusion, LV systolic function and the abdominal aorta in the epigastrium. All of these can be summarized into a "SIMPLE" approach (Table
1
). It will give emergency physicians and intensivists a useful checklist in the evaluation of hypotensive patients.
Table 1
SIMPLE approach for evaluation of key elements during focused cardiac ultrasound sound (FoCUS) in shock patients
SIMPLE approach in focused cardiac ultrasound

S

Chamber size and shape, particularly LV and RV size

I

IVC size and collapsibility

IVS movement

Intimal flaps inside the aorta, suggestive of aortic dissection

M

Mass in the heart chambers (commonly intramural clots and atrial myxoma)

Myocardium (motion and thickness)

P

Pericardial effusion

Pleural effusion

L

Left ventricular systolic function

E

Abdominal aorta in the epigastrium
Table 2
Summary of typical findings in different types/causes of shock by SIMPLE approach
Type of shock

Hypovolemic

Cardiogenic

Septic

Distributive

Pulmonary embolism

Cardiac Tamponade

Aortic Dissection

S

Chamber size

Small LV

Dilated LV

Early: small LVESA

Late: normal/dilated

Near normal LVEDA but small LVESA

Dilated RV, small/normal LV

Diastolic collapse of RA and RV; normal LV

Usually normal

I

IVC thickness

Collapsed

Distended <50 % respiratory collapse

Early: collapsed

Late: distended

Collapsed

Distended and loss of respiratory collapse

Distended and loss of respiratory collapse

Normal when no cardiac tamponade

IVS movement

Normal

Reduced

Early: normal

Late: reduced

Normal

Paradoxical IVS and D-shaped LV

Normal

Normal

Intimal flap

Absent

Absent

Absent

Absent

Absent

Absent

Present

M

Myocardial thickening/motion

Hyperdynamic

Hypokinetic

Early: hyperdynamic

Late: hypokinetic

Hyperdynamic or normal

McConell's sign, LV hyperdynamic

Diastolic collapse of RA and RV

Normal if coronary ostia not involved

Masses in heart

Absent

Intramural thrombi if AF/AMI

Absent

Absent

Thrombi in RA/RV and IVC

Absent

Absent

P

Pericardial effusion

Absent

Small amount if inflammatory cause

Absent

Absent

Absent

Moderate to large but can be small if acutely collected

Present if retrograde dissection and echogenic

Pleural effusion

Absent

Present

Present if pneumonia

Absent

Usually absent

Absent

Present if hemothorax

L

LV systolic function

Hyperdynamic

Poor

Early: normal or hyperdynamic

Late: impaired

Normal or hyperdynamic

Normal or hyperdynamic

Normal

Normal

E

Abdominal aorta in epigastrium

Aneurysmal if due to AAA rupture

Normal

Normal

Normal

Normal

Normal

Intimal flap seen
In addition to the five orthodox TTE views, the subcostal region or epigastrium is included in this SIMPLE scanning protocol to assess the size of IVC and abdominal aorta which may be involved in aortic dissection and aneurysmal rupture (Fig. 2). In this approach, a single ultrasound probe is used to look for the causes for hypotension and guide treatment by means of a focused point-of-care ultrasound study. Concerning the sequence of examination, it would be a good habit to start at the parasternal views then move to the apical view and, finally, the subxyphoid/epigastric regions to assess the IVC and the abdominal aorta. However, in some patients with emphysematous lungs, hyperinflation of the chest and morbid obesity, and on mechanical ventilation, only one to two views can be obtained for evaluation. Cardiac function assessment, although limited, may still be possible in these situations through the remaining one to two views. If FoCUS reveals features of hypovolemia (as will be discussed later), a focused assessment with sonography for trauma (FAST) protocol (i.e., SIMPLE + FAST approach) is warranted to look for intra-abdominal bleeding and hemothorax. Although limited when compared to comprehensive echocardiography carried out in the cardiac laboratory, this approach provides valuable information concerning the pathology, heart function, and physiology to differentiate between different types of shock and guide subsequent management.
Evaluation of undifferentiated shock by SIMPLE approach
Hypovolemic shock
In patients with hypovolemia, the left ventricle becomes small with a smaller LVEDA (<10 cm
2
). The lumen of the LV may even be obliterated and the ventricular walls are seen to be "kissing" (Fig.
11a, b
) [
22
]. The IVC collapses, and the size becomes less than 2 cm with >50 % collapsibility (Fig.
12
). Hyperdynamic LV with normal or higher than normal ejection fraction and normal myocardial thickening is found. Depending on the source of bleeding, hemothorax may be an incidental finding in FoCUS but it should not be misinterpreted as pericardial effusion. The epigastric area should be screened for the presence of an aortic aneurysm. If an aortic aneurysm is found in a hypotensive patient, aneurysmal rupture should be suspected and urgent surgical consultation is warranted. FAST scan should also be done when no obvious sources of bleeding can be identified in the context of hypovolemic shock. Fluid responsiveness can be predicted by using the IVC collapsibility index in ventilated patients to guide subsequent fluid therapy.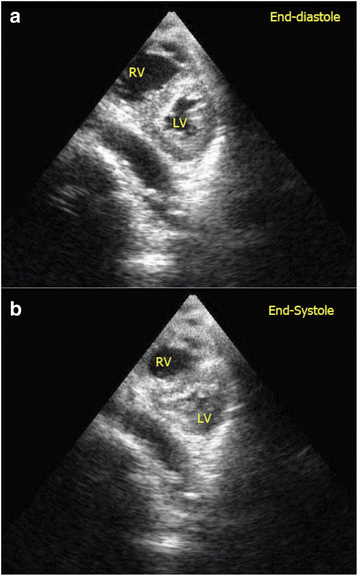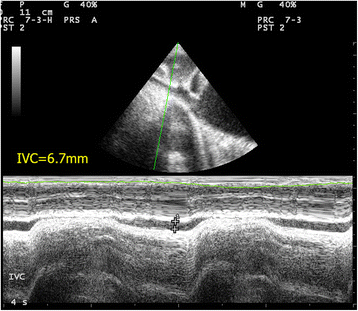 Cardiogenic shock
Echocardiography or cardiac ultrasound definitely has a role in managing cardiogenic shock due to LV dysfunction and valvular dysfunction. LV would be dilated, and fractional shortening would be impaired (Fig.
13
). Dilated IVC >2.1 cm with the absence of respiratory variability is expected. Regional wall motion abnormality may be seen if the underlying cause for cardiogenic shock is myocardial ischemia. The whole myocardium would be hypokinetic in the case of global systolic dysfunction (e.g., due to myocarditis). As mentioned before, LV systolic function can be assessed by quantitative measurements including FS and LVEF by using the modified Simpson biplane method. However, all these measurements require good visualization of the LV and clear delineation of the endocardium. Errors commonly occur when the optimal image of the LV cannot be obtained in emergency settings. Thus, visual estimation, so called eyeballing, would be more practical in these situations. By obtaining valuable information on pump function, inotropic support and judicious fluid administration is indicated. Emergency transferal of the patients to cardiac catheterization facility for revascularization can also be facilitated in myocardial infarction.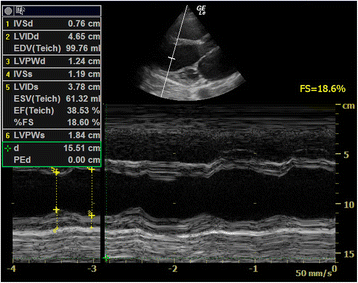 Conclusions
Managing patients in profound shock poses a very great challenge to clinicians. Correct diagnosis and timely specific treatment to restore the otherwise jeopardized circulation are vital to the survival of hypotensive patients. Throughout the past 10 years, FoCUS has emerged as one of the important allies of emergency physicians and intensivists to provide crucial answers to challenging clinical conditions. In properly trained hands, FoCUS can provide real-time valuable information on the pathology and physiology of circulation to differentiate between different types of shocks. Through the suggested SIMPLE approach, different types of shocks can be characterized according to 2D ultrasound findings and simple measurements (Table 2). This approach is not only simple and practical but also provides an easy-to-remember checklist of ultrasound findings for clinicians to focus on when managing patients with undifferentiated shock. Integrating SIMPLE approach with FAST scan (i.e., SIMPLE + FAST) can be feasible and particularly helpful in identifying intraperitoneal bleeding and initiating fluid resuscitation in hypovolemic shock. Current evidence supports the role of FoCUS in undifferentiated shock to improve the diagnostic accuracy, narrow the possible differential diagnoses, and guide specific management. More high-quality clinical trials are warranted to further look into the impact of FoCUS on the clinical outcomes, patient survival, and financial implication in future.
Abbreviations
AAA, abdominal aortic aneurysm; ACES, abdominal and cardiac evaluation with sonography in shock [10]; ACLS, advanced cardiac life support; AF, atrial fibrillation; AMI, acute myocardial infarction; AP2, apical two-chamber view; AP4, apical four-chamber view; AV, aortic valve; AVG, atrioventricular groove; BEAT, bedside echocardiographic assessment in trauma/critical care [69]; BLEEP, bedside limited echocardiography by emergency physician [66]; CAUSE, cardiac arrest ultrasound exam [67]; CI, cardiac index; CVP, central venous pressure; DA, descending aorta; ED, emergency department; EGLS, echo-guided life support [72]; FALLS, fluid administration limited by lung sonography [74]; FAST, focused assessment with sonography for trauma; FATE, focused assessed transthoracic echocardiography [12]; FEEL, focused echocardiographic evaluation in life support and peri-resuscitation of emergency patients [71]; FEER, focused echocardiographic evaluation in resuscitation [73]; FoCUS, focused cardiac ultrasound; FS, fractional shortening; ICU, intensive care unit; IVC, inferior vena cava; IVS, interventricular septum; LA, left atrium; LV, left ventricle; LVEDA, left ventricle end-diastole area; LVEDD, left ventricle end-diastole diameter; LVEF, left ventricular ejection fraction; LVESA, left ventricular end-systolic area; LVOT, left ventricular outflow tract; PC, pericardium; PcE, pericardial effusion; PLE, pleural effusion; PLX, parasternal long axis view; PoCUS, point-of-care ultrasound; PSX, parasternal short axis view; PW, posterior wall of left ventricle; RA, right atrium; RAP, right atrial pressure; RUSH, rapid ultrasound for shock and hypotension [9]; RUSH-HIMAP, rapid ultrasound for shock and hypotension-heart, inferior vena cava, Morrison pouch with FAST exam view and hemothorax windows, aorta, and pneumothorax [70]; RV, right ventricle; RVOT, right ventricular outflow tract; SV, stroke volume; SXP, subxyphoid view; TTE, transthoracic echocardiography; UHP, undifferentiated hypotension patient [11]; WINFOUCS, World Interactive Network Focused on Critical UltraSound
Declarations
Acknowledgements
Not applicable.
Funding
The author received no funding in writing up this article.
Availability of data and materials
No datasets are used in this article.
The conclusion of this article is drawn from the author's observation and the available evidence from the literature included already in the reference list.
Authors' contributions
There is only one author who drafted the manuscript, read, and approved the final manuscript.
Competing interests
The author declares that he has no competing interests in writing up this article.
Consent for publication
Not applicable.
Ethics approval and consent to participate
Not applicable.
The manuscript reports no data collected from humans or animals.
Open AccessThis article is distributed under the terms of the Creative Commons Attribution 4.0 International License (http://creativecommons.org/licenses/by/4.0/), which permits unrestricted use, distribution, and reproduction in any medium, provided you give appropriate credit to the original author(s) and the source, provide a link to the Creative Commons license, and indicate if changes were made. The Creative Commons Public Domain Dedication waiver (http://creativecommons.org/publicdomain/zero/1.0/) applies to the data made available in this article, unless otherwise stated.
Authors' Affiliations
(1)
Accident and Emergency Department, Ruttonjee Hospital, Wanchai, Hong Kong SAR